Welcome to: Walt's Web World
Professional Web Design at Affordable Prices

Is your web site delivering your message to your customer, or is it FLOATING along on the Internet Highway just as a Message in a Bottle hoping to be found by the one person that will take the time to stop and read your message?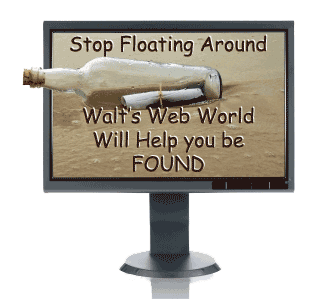 Web Designs that work with You


Walt's Web World located in Yuma, AZ will professionally design a web site for you that works and will Save you Time and Money. When Walt's Web World designs your web site we take great pride in designing you a very unique web site that is very User Friendly and Search Engine compatible. We work closely with our Clients to help them achieve the design and style they want, which will help them to sell their products and services to the Internet audience.



Web Design and Hosting


Walt's Web World specializes in developing web sites that work for our clients. We strive to separate ourselves from other web development companies and design firms through quality of work and timeliness design. We own and manage our own hugely successful Online stores and informative web sites and embed those same techniques and principles in our clients sites. Walt's Web World is dedicated to providing the latest Web Site technologies to businesses that are looking to develop an innovative Online presence and helping them to achieve the HIGHEST Search Engine ranking possible by incorporating the latest methods utilizing your Meta Tags.




Our Web Site Designs & Services
Walt's Web World designers offer our clients a unique approach to creating their web site and maintaining their Search Engine presence.

We work closely with our clients to help them communicate effectively with their specific message Online. This is a very challenging tasks that a web designer can face. Assisting the client in the design of the web site is only part of what we do, especially if who has commissioned the work is part of a large organization in which there are many people involved that need to be taken in consideration.


Award Winning Web Site Designs
One on One Consulting
Custom Web Site Design
eCommerce, Business
High Quality Graphic Artists.
Digital High Quality Photography

Internet Marketing Experts.
Search Engine Marketing Experts.
Data Base Designer (File Maker Pro)
Computer Programmers.
Usability Experts.
Navigation Specialists
Internet Hosting



eCommerce Web Sites - for the Future
Walt's Web World designers offer our clients a unique approach to creating their web site and maintaining their Search Engine presence.

Every company that sells products or services needs access to the largest potential customer base anywhere in the USA or the world for that matter. Walt's Web World now offers affordable solutions that enable your company to sell Online to anyone, anywhere. The reality of the Internet has made Online shopping carts a must for every company that sells anything - whether it be a physical product or a valued service.



Why Walt's Web World
Walt's Web World didn't open its doors on a reputation of designing eCommerce Web Sites for other people or companies and testing their workmanship on other companies payrolls!!! Walt's Web World started because of a small group of business people that wanted to be able to run their business on the Internet the way they wanted to, and not because some High Dollar designers said you have to do it their way. Many of our small business owners of today need to run their operation on a very tight budget, which doesn't afford them the opportunity to an abundance of employees. The small business owner today's needs to more efficient and one way that we can help is to offer you software that helps you control your inventory at your place of business, either (small or large)

Walt's Web World is located in Yuma, AZ was started because we wanted our Online business to work the way we wanted them to. We know what it means and what it takes to be successful due to our own experience with many years of building and designing our own Online stores on the Internet.

If you have a question, contact us.


Want to add a Store to your Web site?
Walt's Web World will fit your existing web site with a turn key shopping cart ready for you to add your products. The look and feel of the shopping cart page itself will be customized to mirror your existing web site, giving a completely seamless experience for your web site visitors.

You will be able to select the features that best fit your Online store and you can select from a number of advanced features such as Search Engine friendly submission pages that can be customized to achieve even a Higher Search Engine rating, shipping calculation, stock control (with Data Base version) discounts, coupon codes, order processing and a variety of payment gateways including Credit Cards, PayPal, Pay by Check, Gift Certificates.

To learn more about adding a Shopping Cart to your existing web site, contact us. We will try to help you out with straight answers that will make sense.